Tips and tricks for Instagram stories
Instagram story has been a really attractive and eccentric way to engage the audience and build their interest level up and for users to upload what they do in daily life. Inspired by Snapchat stories, Instagram launched the story format in 2016 and ever since it launched story, it keeps upgrading the story for the audience with different interesting features.
There are different tips and tricks for the users, business and creators for Instagram stories to make your story more appealing and unique
You can use the extra filter option for the background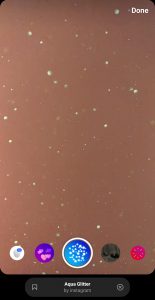 This trick helps your story to find live backgrounds without downloading any additional apps for it. Just capture any blank color photo. Choose the filter option on the top right and there you will find many live filters like aqua glitter, lighstreak, heart flow and so on.
These filters are live filters which give live effect to your story background making it very attractive and pleasing. Then you can write text or add pictures like what you wanted to do with this beautiful background instead of a plain background.
Using 'canva' app
Canva app is a graphics template app that gives your background an amazing and attractive template. This app is beneficial especially for small businesses where hiring graphic designers can add additional cost to the business. This app can be used by any beginner who doesn't have much knowledge about graphics and design. This app allows users to have background templates as per your requirement whether you want dimensions for insta post of 1:1 or insta story of 9:16.
Adding special touch with music
Instagram has its own special feature of adding music to the stories. You don't have to use a different app to add music. Avoid all the hustle with Instagram music. All the latest and trending songs are available in Instagram music. Even the trending music and sound effects used in TikTok are available on Instagram music too. Add the music for the special touch to your story.
Keep up with the story dimension
It is advised to keep up with the Instagram story dimension of 9:16 because when you use different dimensions, a lot of spaces are left empty. This problem doesn't arise when you use Instagram camera to click the photo but when you use photos from your phone gallery dimensions might not be the same.
But the empty spaces can be filled with other attractive features of Instagram story like adding text, GIFs, fun stickers, hashtags and location. You can use different creative ideas to fill up the space to make the story more attractive and appealing.
Instagram story is a very attractive and unique way to showcase your daily activities which you like to share or business to increase the audience engagement. Instagram stories have unique features which makes it competitive and different from the rival Snapchat story.