How To Collab With Non-YouTubers
Collaborating is a great way to outsource your channel's growth in a positive run. By collaborating, you hjelp your channel to reach a more targeted audience and customers. 
Collabs are a great way to grow your channel and reach new potential viewers. However, not everyone you want to collaborate with will be a fellow YouTuber. You may want to work with an actor, artist, musician, small business owner, etc.
Here's how to collaborate with non-YouTubers.
1. Propose a video that makes use of their skills.
With a fellow YouTuber, your collab could be a classic YouTube challenge or a twist on one of your popular video formats. However, someone who isn't a YouTuber may not be interested in making a video like that. Instead, you should propose a video idea that makes use of their professional skills.

For example, when beauty vlogger James Charles collaborated with celebrity makeup artist Mario Dedivanovic, he chose a concept that was straightforward. Mario is famous for doing other people's makeup, so James had him do his makeup.
2. Describe their work to your viewers.
The purpose of a collaboration is to promote all the parties involved. So, if you only introduce your collab partner as "an actor" or "a small business owner," they won't be getting a fair amount of promotion. When you introduce them, you should describe their work and show examples if you can.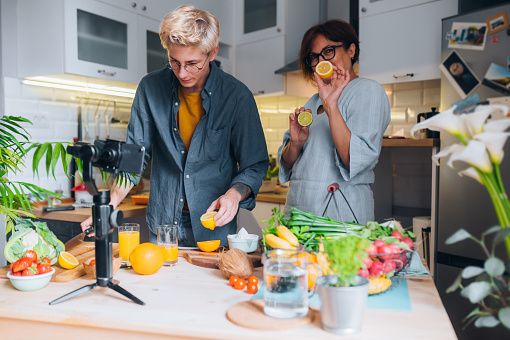 For example, Rhett and Link have a lot of celebrity guests on Good Mythical Morning. Whenever they introduce a guest, they also tell their audience about the celebrity's current roles or upcoming projects. That way, the viewers know where they can see more of that special guest's work.
3. Link their social media and special projects in your video description.
Whenever you collaborate with someone who doesn't have a YouTube channel, you should still link their other social media accounts in your video description. In your video's call-to-action, ask your viewers to follow their accounts as well as your own.

To really make a collab worth a non-YouTuber's time, you should link their special projects as well as their social media in the description of your video. For example, you might link their online shop or their movie trailer. If their main claim to fame is their social media page, then you might link a recent post they'd like to promote.
When collabing with a non-YouTuber, you may need to think a little differently. However, with these strategies, you'll be able to create a video that's equally fun and beneficial for both of you.