WhatsApp Business: All you need to know
WhatsApp now is not just a private app to chat privately, but has now evolved to benefit especially business. Apart from other social media platforms that let you carry out your marketing strategy, WhatsApp also has become an important part of social media marketing strategy. Just like WhatsApp is a personal app that lets you chat with your friends and family, WhatsApp business lets you make a close and personal relationship with your customers. WhatsApp has 450 million daily active users worldwide.
WhatsApp was founded in 2009. It was founded by Jan Koum and Brian Acton who earlier worked with Yahoo. WhatsApp joined Facebook in 2014. Source https://www.whatsapp.com/about/
WhatsApp business was introduced specially for small businesses to connect with the customers personally and provide necessary business solutions.
Features of WhatsApp business:
Quick replies: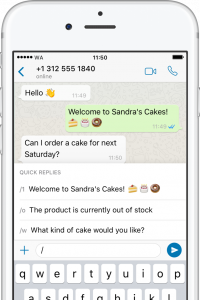 Saving quick replies as templates to the commonly asked question that can help you to save your time and efforts to type the answers and helps the customer to solve the query fast. These messages can be edited and customized whenever you want.
Business profile: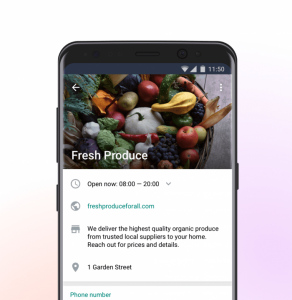 WhatsApp business lets you set up your business profile for WhatsApp that consist of your address, category of business, email, website, number, business timing, catalogs and description. It gives you a separate identity of your business.
Automatic greeting message: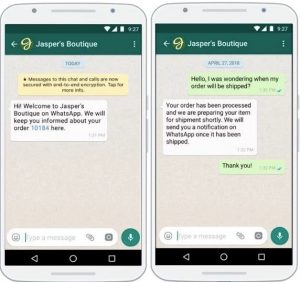 When your customer connects you with WhatsApp business, you can set up an automatic greeting message like "Welcome to foodie's café, thank you for contacting us we would love to hear your query." Just like this you can set up automated greeting messages as per your business type. It develops a sense of belongingness to the customer and develops good customer relations.
Label contacts as per preference: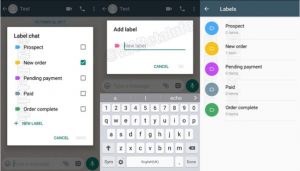 WhatsApp business lets you list your customers as per new customers, pending payments, paid, old customer, fast food lover, drinks lover, pizza lover, anything you add as per your preference. Labelling contacts allows you to differentiate the type of customers and helps to scrutinize the actions of your customers that affect your business.
Short link: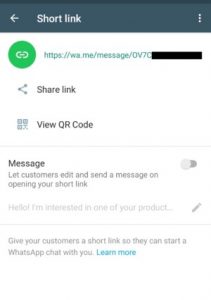 Unlike the regular WhatsApp that makes you save the contact in your phone to start chatting, the WhatsApp business removes this hindrance and allows you to chat with customers without saving their contact! You can just create a link and send it to customers to start the conversation.
Broadcasts:
WhatsApp business has no limit to send the broadcast message, unlike the regular WhatsApp. This helps the business to terminate the hindrance of saving contact and yet broadcast the message to many people.
WhatsApp business helped many businesses around the world to connect with potential customers personally. It allows many features for the business to help in satisfying customer needs and connect with them on a personal level as a result customers feel trusted and valued that increases the customer loyalty towards the business.