5 Tips to make an attractive Instagram profile
Instagram is quite an engrossing app, isn't it? We like to scroll Instagram explore page to look for entertainment, memes, updates about movies and series, read motivational quotes, look for our favorite products and so on.
You might have wondered how many of the Instagram profiles are so attractive and engrossing that you might have wondered how I can make my profile as such. It's not rocket science to build an attractive Instagram profile, it's quite easy. You just have to follow some tips to make sure you get your desired Instagram profile.
A catchy username:
The first thing a person comes across is the username you function with. Whether you left a comment on a post or your post came in the Instagram feed, your username attracts the attention of the Instagram user.
An appealing profile picture:
An appealing profile picture doesn't mean it has to be only your picture. You can either use your own picture or any other appealing pictures. Because many times what happens is that you may have left a comment on a post or someone saw your story from the hashtag and your distinct profile picture catches the attention of the users. Some users get curious about the profile picture and visit the profile to check. There are also many photo editing apps like PicsArt, Inshot, and Adobe Lightroom that have a variety of features to edit your profile captivating and interesting.
A gripping bio:
Bio is a space under your profile picture that gives you an opportunity to write something about yourself. You can write anything that describes you or any quote you like, basically anything that makes your bio gripping and catchy which ultimately make your Instagram profile attractive and stand out. If you run a business profile then your bio must have all the necessary details about business to grab the attention of the users. Bio tells a lot of things about your profile so make sure it is interesting and catchy enough to grab the attention of Instagram users.
Story highlights: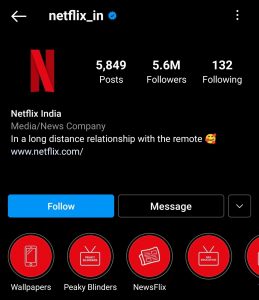 Story highlights are stories that you save and choose to appear on your profile even if it expired after 24 hours. We often save some stories as highlights. It also makes the profile look engaging and appealing. You can also change the profile picture of your highlights and edit the title. Arranging highlights under specific categories makes an Instagram profile look attractive as well as professional.
Attracting content:
Without some attractive content, the profile is just plain blank, just like a cake without any icing. The main content of Instagram is posting photos and videos, so they have to be really engaging and attractive. Posting photos and appropriate captions both are very necessary to make the entire content presentable. Whether you are a writer that doesn't care about quality photos or if you are a photographer that doesn't care about what to write, you must understand both are necessary materials to make the content unique and attractive to your Instagram profile.
 Bring out your fun ideas to put your Instagram profile best out there!