Choosing the right social media platform for business
The technologically driven world has compelled the businesses to establish and expand the business horizon to social media in order to reach potential customers online. Many businesses took the advantage of social media and successfully reaped the benefits of it. But since there are a number of various social media platforms available for you to reach your potential customers, many businesses find it hard to choose which platform they should opt for, whether they should choose one or two social media platforms or all? And which platform can serve best for their purpose?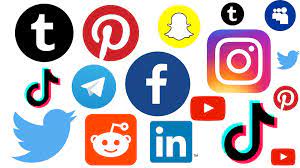 Nowadays segmenting your potential customers to age, gender, lifestyle, preferences etc. helps businesses to target the customers more efficiently and what's more better than social media to know which target customers can be reached on what platforms. Blindly choosing social media without learning what that specific platform can serve best for you will be a failed strategy to conquer the market. As a part of a good social media strategy it is must to know all about social media platforms.
Say if your business want to target teenagers and young audience between the age group of 13-28, Instagram, Snapchat, TikTok would be the best platform to reach them because many youngsters spend most of the time in these three social media platforms and with the increase in the number of 'influencers,' businesses can use influencers to reach them as majority of the influencers have power to impact their choices. While the majority of middle aged and old people use Facebook so businesses should reach out to them through Facebook. Mixing up the platform will create chaos for marketing strategies that's why plan well in advance and use those social media only to reach certain potential customers. This way your marketing strategies will be balanced.
A brand is well recognized and respected if it has a procedure to handle customer grievances and complaints. And the social media platform for such a purpose is Twitter. Keep twitter solely for handling customer complaints. Twitter provides a platform to speak out on the issues, views, beliefs, ideologies etc. Let your potential customers on other social media platforms know that they can complain and give feedback on Twitter.
For the best visuals and videos, choose Instagram as your platform as Instagram has various features like uploading high quality photos, 60 second video, IGTV videos up to 15 minutes, short trending reels and 15 second stories that has 24 hours life span. Instagram has the best features for the visuals so make sure you make the best of it.
As a first step of your social media marketing strategy, choosing the right social media platform should be well devised, so that your strategy works well according to the plans. Having knowledge about social media can be a little tricky, because many social media platforms are similar in nature as all of them allow you to post photos, videos and views but some are specialized in certain things like mentioned above. Hence plan your strategies well and execute the actions.